It's very rare to see your consumer proposal rejected by creditors but it is a possibility. If this is the case, no need to worry, there's still a way.
When the consumer proposal is filed, you must allow the creditors to make their decision (by taking votes) within 45 days. When reviewing the proposal they may:
Take into acceptance your entire proposal. They could dismiss and reject the terms you've placed in front of them and in some cases ask for a creditors meeting.
The only time votes are counted is when a meeting is requested with the creditors. If you are told that no meeting is necessary then your proposal has been accepted. Only during a meeting with creditors it will mean your proposal has been turned down. This meeting is crucial as it will provide ways to reengage in negotiation terms that may assist the proposal in getting passed.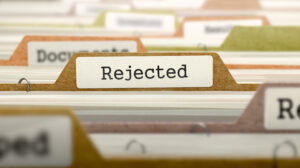 Votes Matter
The outcome of your consumer proposal is based up the votes from your creditors. Depending on the amount, each creditor will receive a vote for every single dollar that is you have to repay to them.
One creditor can't reject the proposal on their own. The final say is determined by what the majority has voted for. If your proposal is voted in favour for, by more than half of your creditors, it will get accepted. All parties involved then must partake in the consumer proposal.
The only circumstance where a one creditor has the power to determine if the proposal is successful or not is if they are owed more than half of the claims that are involved in the proposal.
Facing A Rejected Proposal
If majority of creditors have voted no, there's no need to lose hope. This process does not end there. Let's look at what happens next.
In majority of circumstances they will request for you to change the terms that were originally listed because there's a chance that if you were to declare bankruptcy, then they will receive less of an amount than you proposed in the consumer proposal. They can request for you to increase the payment for each month or may ask to rearrange the length of the payment plan which at most can be a 5 year term.
If you both come in agreement to the revised terms than your consumer proposal will be accepted. If you feel like the terms aren't exactly what you are comfortable with than you are allowed to make a counter offer to the creditors.
Proposal Rejected? Now What?
Work to renegotiate your terms first. For example this could the payments or the length of the proposal. You can withdraw the proposal and look to file for bankruptcy or withdraw the proposal and search for another debt relief option which can be credit counselling, developing a debt management plan or pay your debt of on your own. Lastly you can, withdraw the proposal and refile it down the road again. It's recommended to wait six months before you reapply again due to the fact that if a proposal is filed within six months, the automatic stay provisions of the Bankruptcy & Insolvency Act will not apply. Waiting for the six months will ensure that you reengage in full protection from your creditors.
When making a proposal, make sure you have a balance between what you can afford in the repayment process and what you think they will be expecting as a payment. You want to make it as fair as possible for them so that it's less of a headache and that the process is dealt with quickly. For any consumer proposal related questions feel free to get in touch with GTA Credit Solutions!